Automatic high speed stick powder packing machine
Automatic high speed stick powder packing machine
HEYI

Guangzhou

15 days

500sets/month
fast speed,300bags/min,6 lanes,8lanes,10lanes stick powder machine,with round corner bag type,child safety.save labor cost,can be used for different powder,like coffee powder,milk powder etc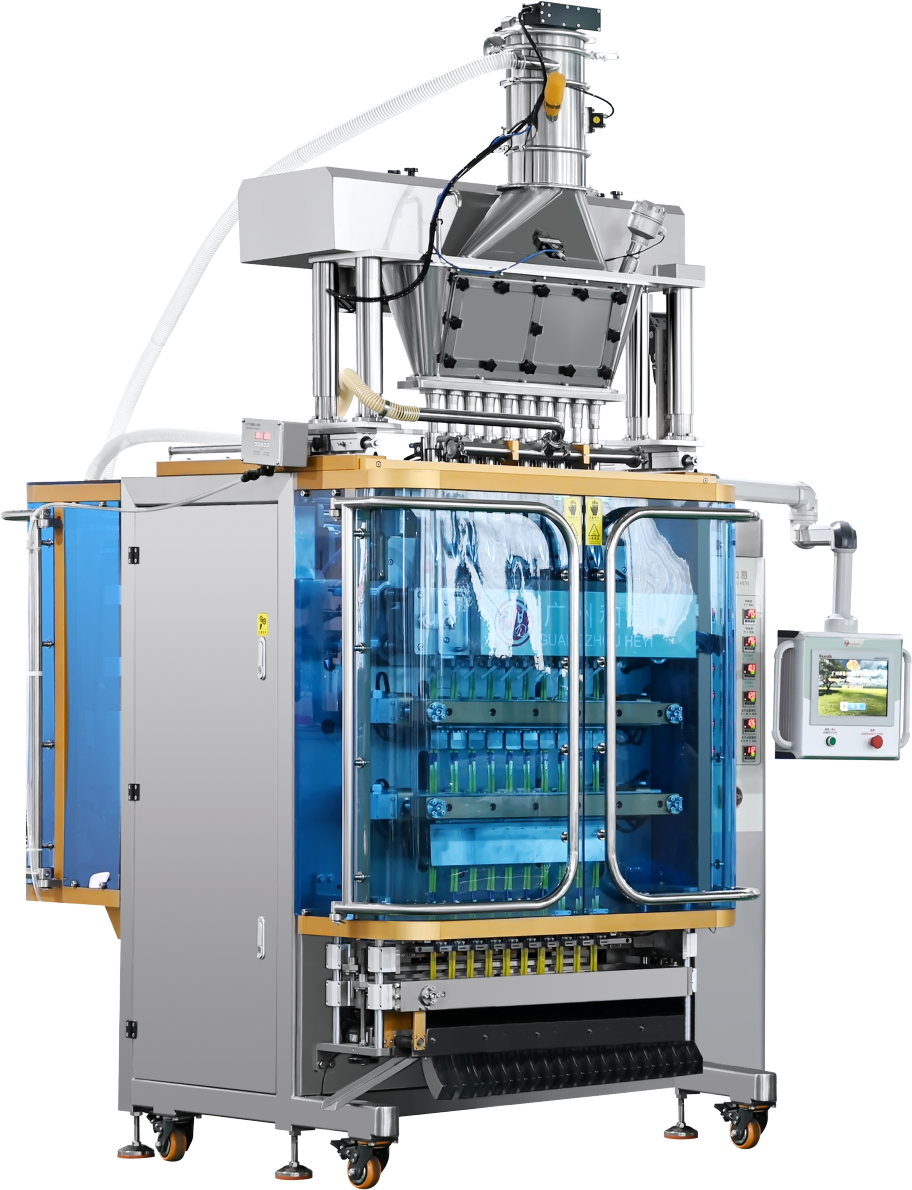 Application
It is suitable for automatic packaging of powder products with poor fluidity in food, health care and pharmaceutical industries, such as: freeze-dried powder, protein powder, gastrodia powder, pueraria powder, stone meal powder, notoginseng powder, whole grain powder, meal replacement powder , milkshake powder, ganoderma powder, bear bile powder, milk powder, coffee powder, solid beverage, etc.
Features:
1. Adopt German Siemens PLC controller, color touch screen operation; Taiwan AIRTAC cylinder; France Schneider switching power supply;
2. Servo heat sealing bag, vertical sealing without stickers, exquisite bag type;
3. Material: The contact part of the box and material is made of SUS304 stainless steel, which is in line with GMP production.
4. The heat-generating parts and moving parts are hidden in the protective cover, which is safe and reliable.
5. The equipment is equipped with casters for easy handling and movement.
Mechanical characteristics and product characteristics:
1. Customize the screw according to the crushing number of the material, the dusting property, and the sugar content, so as to ensure that the material is not blocked during the filling process, and the precision is high;
2. Rounded shaped sachet, can design the size of the nozzle, tear horizontally to prevent the material from spilling; the arc corner can also prevent children from scratching Eye corners, increasing product safety;
3. Longitudinal sealing adopts side sealing, longitudinal sealing and tying; longitudinal sealing and sealing structure can be opened from the middle to both sides;
4. Punching die adopts HKS-9 material, after six processing techniques, high durability and long service life
5. Add a disinfection lamp at the film pulling film to carry out preliminary disinfection of the film;