Automatic Multi Lanes Stick Instant Coffee Bag Packing Machine
Automatic Multi Lanes Stick Instant Coffee Bag Packing Machine
HEYI

Guangzhou

30days

100sets/month
Automatic Multi Lanes Stick Instant Coffee Bag Packing Machine,it is high speed packing machine,about 500bags/min.with nice machine design can help you to save much cost.

From 2 lanes,4lanes,6lanes,8lanes,10lanes,you can have your design.Another advantage of this multi lanes machine is that save your space and worker.The disadvantage of this machine is that not much flexiable than single lanes machine,can't change any parts if you add the grams or change the bag width.

we are working with many big company,if you have time,you can go to their factory to check the machine running situation.
Automatic Multi Lanes Stick Instant Coffee Bag Packing Machine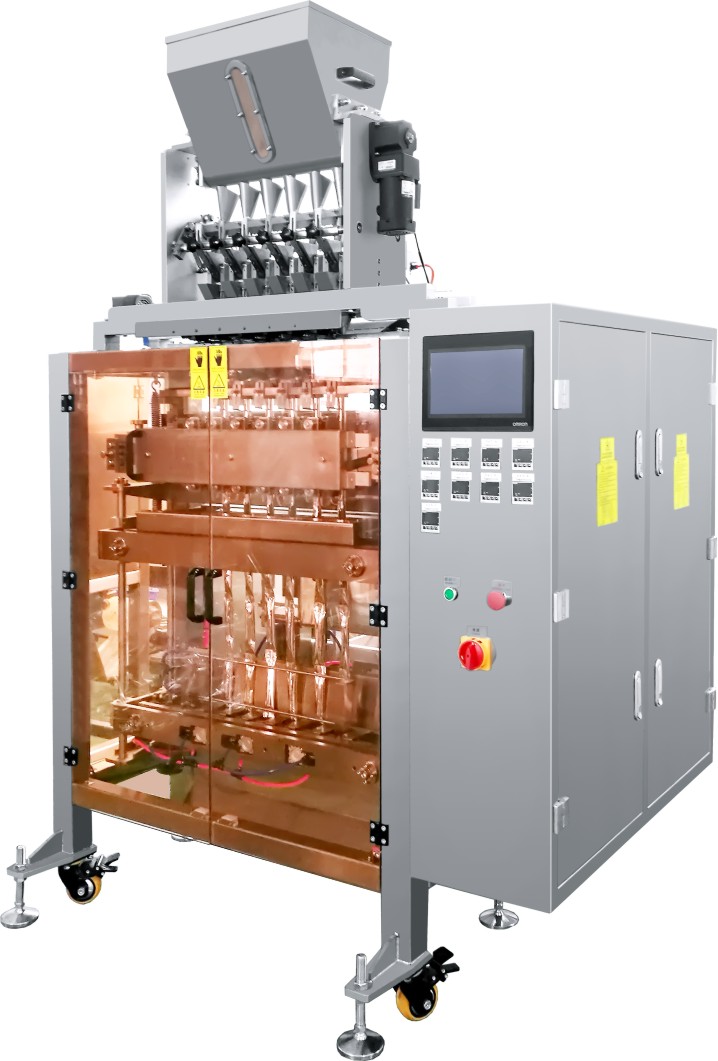 Application for Automatic Multi Lanes Stick Instant Coffee Bag Packing Machine
It is suitable for automatic packaging of liquid paste products in daily chemical, food, health care and pharmaceutical industries, such as: mouthwash, cream, toothpaste, etc.; enzyme drink, enzyme jelly, energy supplement, etc.; syrup, red ginseng drink , grain health cream, etc.; hemorrhoid cream, ointment, etc.;
Bag type:stick bag type
Notch:Zigzag notch or round corner bag type,your choice
Specifications for Automatic Multi Lanes Stick Instant Coffee Bag Packing Machine
Model

HY-YY520

HY-YY720

Filling range

1-20ml

1-50ml

Rows

1by6

1by6, 1by8, 1by10

Sachet size

W:25-38mm L:30-170mm

W:25-55mm L:30-170mm

Max. film width

520mm

720mm

Sachet type

Stick with round corners

Stick with round corners

Filling method

Piston pump / magnetic pump

Piston pump / magnetic pump

Capacity

120-180 ppm

200-300 ppm

Power Voltage and consumption

220V50-60HZ/4.5KW

220V50-60HZ/4.5KW

Air pressure and consumption

0.6m³/min 0.6-0.8Mpa

0.6m³/min 0.6-0.8Mpa

Dimension(L*W*H)

1410*1700*2500mm

1540*1700*2500mm

Weight

600KG

650KG

Packaging film materials

PE laminated film, such as PET/AL/PE, PET/PE, Nylon/PE, etc.

Thickness: 0.08~0.12mm(3 or 4 layers)

Inner core diameter:75mm

Outer roll diameter:500mm
Bag sample as below: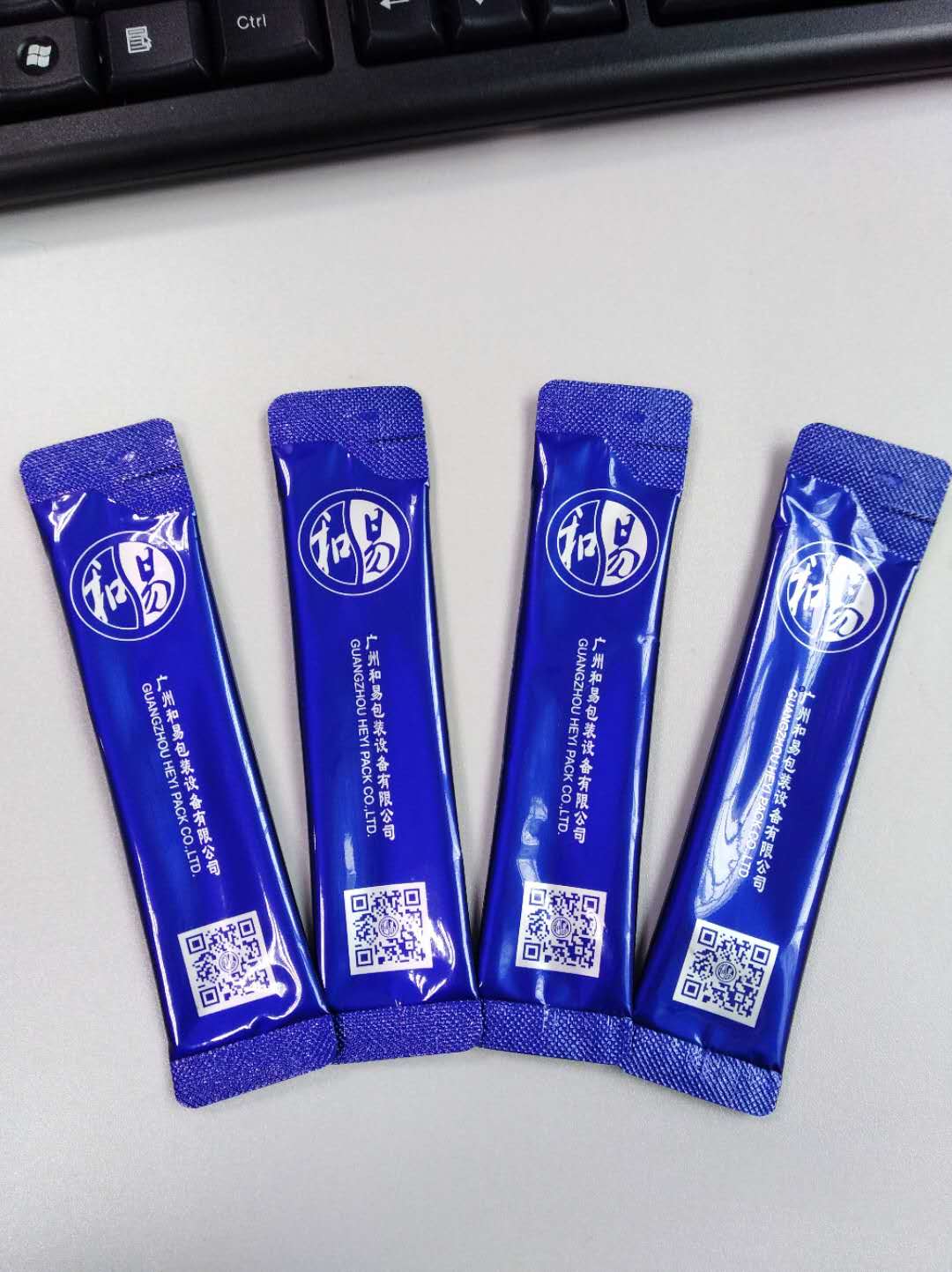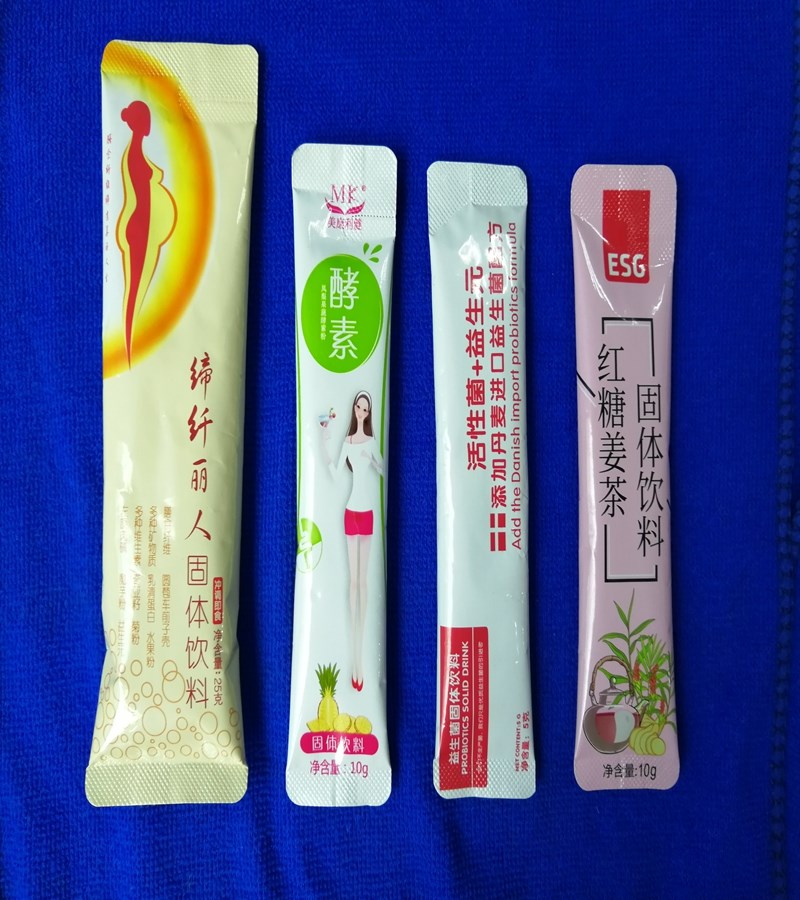 1. Specialized in all kinds of granular packing. It adopts advanced PLC controlling system from Germany. Easy operation, high accuracy, easy maintenance and nice appearance.
2. Article: sugar,instant coffee,salt,pepper etc
3. Capacity: about 500 bags/min
4. Accuracy: < +1 %
5. Easy for adjusting the dosage and filling speed which is controlled by screen.check the machine working data in touching screen directly
6. Stainless steel for machine body and material contact parts. Convenient for install and uninstall as well as easy clearance. In line with GMP standard.
7. The integrated processes of bag making, measuring filling, sealing , cutting , counting ,cutting and hot pressing codes can be done automatically ,.The packing film include several heat-seal lamination such as PET/PLATED ALU/PE,PET/PE,NYLON etc.
8. Photocell eye marking foundation ,to make the logo and pattern on sachet in the correct position .

9. The Special design for machine horizontal and vertical sealing working unit which to ensure the pouch bag is no wrinkle , pouch looks perfect .
10. Easy operation , just plug the power , the machine could work , the data setting for sachet size*(sachet length) , packing speed could be setting on the touching screen directly .
11. The machine could count out the sachet No. then to cut automatically .
12. The tension of the machine is perfect which is another point to ensure sachet looking and machine life time .
Company info: