Multi Function Chilli Sauce Paste Packing Machine
Multi Function Chilli Sauce Paste Packing Machine
HEYI

Guangzhou

15 days

500sets/month
Application
Suitable for automatic packaging of liquid paste products in cosmetics, food, health care, pharmaceutical industry, such as: cleanser, skin cream, mask mud, repair cream, essence milk, liquid, lotion, shampoo, conditioner, hair mask, fog eyebrow milk, etc.; chili sauce, soy sauce, mustard sauce, salad dressing, tomato sauce, etc.; enzyme drink, enzyme jelly, energy supplement, etc.; syrup, red ginseng drink, antibacterial cream, dampness Cream, acne cream, etc.
Multi Function Chilli Sauce Paste Packing Machine
Main features for chilli sauce packing machine

finishing weighting, bag-making, filling, sealing, cutting, counting, lot number Automaticly and so on

Automatic optimization match with all the program, this system can alternate the length of bag , thus it is easy and precise;

It has color system controller, so can get the complete trade mark design;

The length of bag and bag packing speed can be alternated by chain-gear stepless speed various without change spare part;

Unique in-laidembedded mouth sealing, enhanced hot sealing mechanism;

Intelligent temperature control by temperature controller, featuring fine heat balance, fine packaging performance, low noise, clear sealing texture and strong sealing performance ;

The main part and contacted the raw material is stainless ;

The machine adopt liquid /paste pump to weight and measure , the seal type is back seal ;

Speed issues: Packing speed according to your liquid and your bag size which can best match the steps of making bag/fulfilling/sealing and cutting .

Liquid bag length can be set free from 30-160mm, using the step Motor , making bags stable and the speed can be controlled ..

Equipment itself has the function of self-diagnosing and error-pointing .when the machine have any problems,such as,can't cut or no film or other things,it will stop automactially.aslo give you a warn sound.

Controlling temperature by high exact PID , which ensure the sealing quality of different packing film material and will be in more stable of hot sealing .You can adjust the temp by yourself per your film

Conveniently operate and repair , because of its intermittent simple structure .
Youy can use a code date printer top print EXP,LOL,MPC etc Automatically and adding the easy-tear type convenient .
Using the superior steel parts , quality to be stable , noise to be bitter , error rate to be low and service life to be long .

Good appearance , smart and unique , the steel of contacting material is stainless steel or poisonousless and corrosion resistance plastic , which reaches the packing requirement of food and medicine ( say GMP ) , especially available in the industries of food , medicine .

accoruiding to different liquid,you can add a accessories for them.heater and mixer.Heater to heat the liquid to make the liquid easy to flow,such as honey.mixer use fro some liquid with granular.
Specifications for Multi Function Chilli Sauce Paste Packing Machine
| | | |
| --- | --- | --- |
| Model | HY-QY50 | HY-Y50 |
| Filling range | 1-50ml | 1-50ml |
| Sachet size | W:30-100mm L:30-150mm | W:30-100mm L:30-150mm |
| Max. film width | 220mm | 220mm |
| Sachet type | 3 sides / 4 sides | 3 sides / 4 sides |
| Filling method | Piston pump / magnetic pump | Piston pump / magnetic pump |
| Control | SIEMENS PLC + TOUCH SCREEN | EASY PACK CONTROL |
| Capacity | 30-50ppm | 30-50ppm |
| Power | 220V50-60HZ/1.0KW | 220V50-60HZ/1.0KW |
| Air | 0.3m³/min 0.6-0.8Mpa | 0.3m³/min 0.6-0.8Mpa |
| Materials | Case and contacting parts SUS304 | Case SUS202;Contacting parts SUS304 |
| Dimension(L*W*H) | 880*700*1750mm | 670*850*1655mm |
| Weight | 250KG | 200KG |
Bag sample as below: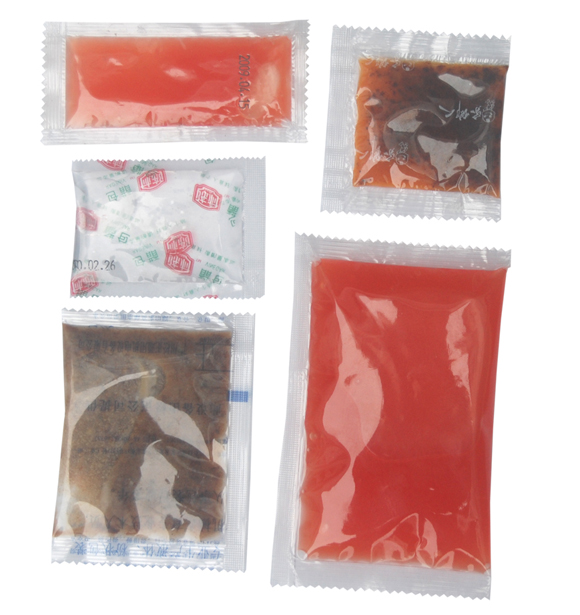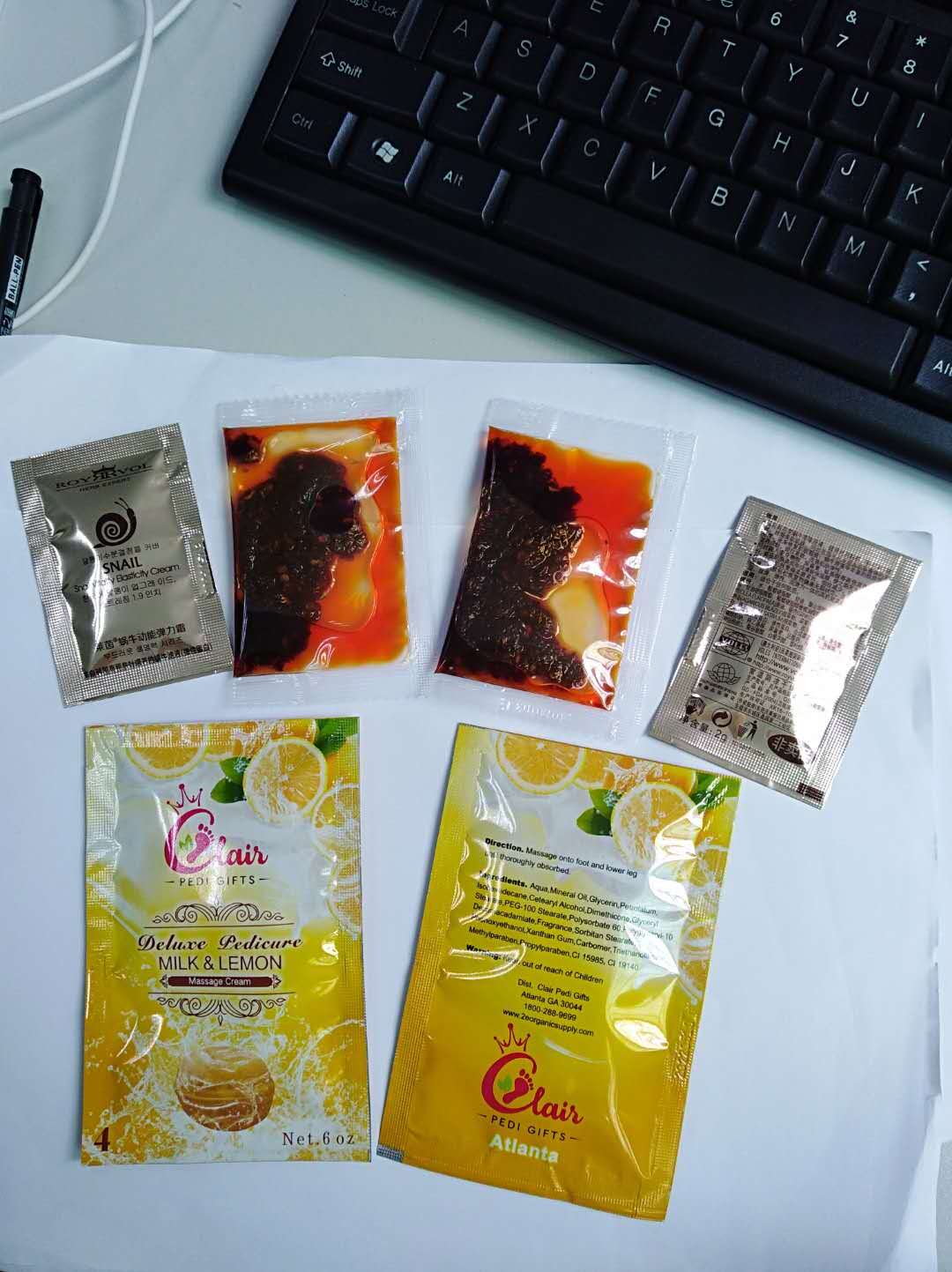 company information: